Justo E. Pinzón Espinosa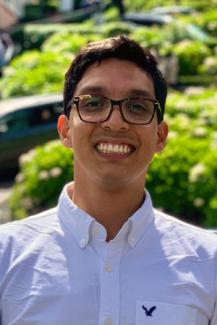 Justo E. Pinzón Espinosa (Panama, 1989) obtained his MD degree in the School of Medicine, University of Panama (2014) with the highest honors. He completed his medical internship program at the Complejo Hospitalario Dr. Arnulfo Arias Madrid (Panama City), Centro de Salud de Nombre de Dios (Colón, Panamá) and the Gorgas Memorial Institute of Health Research (Panama City), obtaining a Postgraduate Degree in Clinical Medicine from the University of Panamá (2016).
From 2016 to 2020, he concurrently finished his Psychiatry residency program at Hospital Clínic in Barcelona and his MSc degree in Global Mental Health at the University of Glasgow. During his residency training, he served as Chief Resident (2018-2019), as well as President of the Spanish Society of Psychiatry Residents (2019-2020), and member of the Executive Committee of the Spanish Society of Psychiatry (2019-2020). At the European Federation of Psychiatric Trainees, he has served as NTA Coordinator and Chair of the Psychiatry Across Borders Working Group. He has served as Teaching Collaborator at the Graduate Medical Degree at the University of Barcelona (2016-2020).
Ever since, Justo has been working Parc Taulí University Hospital as an adult psychiatrist, specializing in affective and non-affective psychoses. He is also the clinical rounds coordinator and is setting up the Bipolar Disorders Clinic at the Mental Health Outpatient Clinic. He currently serves as Clinical Associate at the Department of Psychiatry and Legal Medicine at the Autonomous University of Barcelona and ad-honorem Clinical Professor of Psychiatry at the University of Panama. He is currently a member of the Spanish Society of Psychiatry, Spanish Society of Biological Psychiatry and the Catalan Society of Psychiatry and Mental Health.
He is also currently undergoing his PhD in Medicine and Translational Research at the University of Barcelona (2018 - ), including a predoctoral stay at the Brain Center Rudolf Magnus University Medical Center Utrecht (2019). He is a junior member of multiple research groups, mainly focusing on psychotic disorders from multiple approaches, including cultural and socio-economic aspects of psychiatry and global mental health.
He has been awarded multiple recognitions, including admission to the Sigma Lambda Honor Chapter at the University of Panama and the "Dr. Mariano Gorriz" Award by the Panamanian Society of Psychiatry to distinguished medical graduates in Panama. He has also been awarded funding by the Spanish Foundation of Psychiatry and Mental Health to pursue a predoctoral stay abroad, the Fellowship Award by the Japanese Society of Psychiatry and Neurology for promising early-career psychiatrists and researchers, and the Award by the Medical and Health Sciences Academy of Catalonia and Balears to the best foreign research stay by residents.